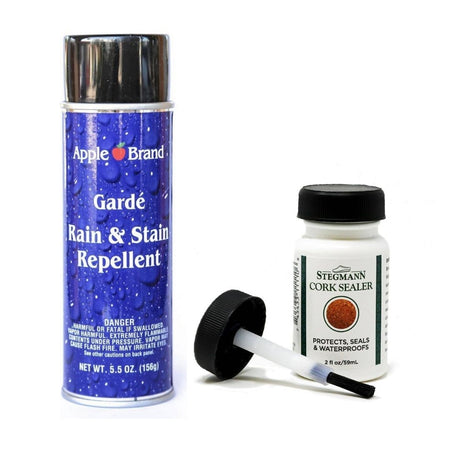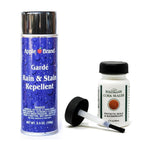 Leather & Cork Care Kit
Protect your Stegmann leather shoes with cork soles with this kit. Tested and recommended for all Stegmann leather clogs and leather shoes. Can be used on wool lined leather styles as well, but take caution not to spray wool with protectant spray as it may change wool properties. 
Kit Contains:
1 Apple Gardé Leather Protector Spray
1 Stegmann Cork Sealer
Shipping: This item is not eligible for free shipping when ordered as a standalone item. Must be included with a clog or shoe purchase to receive free shipping. Ground shipping only, aerosols are prohibited via air shipping. 
Care accessories are not eligible for returns or exchanges.
Spray Description: 
This powerful rain and stain repellant from Apple will protect your suede and leather from water, salt and oil stains. Can be used on all colorfast leather and suede. This product has been tested and approved for color fastness on all Stegmann leather products. 
Note: Product not tested on wool; we do not recommend for use on wool clogs or felt shoes as it may alter wool properties. If using on non-Stegmann products PLEASE TEST for colorfastness in a small area before applying. If color rubs off, it is not colorfast and should not be treated.
Easy-to-use spray
Conditions, cleans and protects leather and suede
Use to protect against body oil, grease, perspiration and water
For older items, make sure they are clean before using
Dries quickly
Will not leave behind residue nor change the color or texture
Cork Sealer Description:
Protect your Stegmann Cork soles from the elements and extend the life of your shoes. Our Cork Sealer is specially formulated for Stegmann cork and latex blended footbeds. Goes on smooth with an easy applicator brush and seals tight for reuse. Keep away from children and protect from extreme temperatures.
Directions for use:
Brush a thin coat on cork surface (apply only to cork) 
Wipe away any excess from leather or wool upper
Goes on white, dries clear
Allow to dry for 20 minutes before reapplying
Application will result in a darker and glossier finish 
New, untreated cork my require two coats. Reapply as needed.
Contains: Twist off lid; 1 applicator brush